About Us
Find out more about Byte Shredders
History
Based out of Northeast Ohio, Byte Shredders was formed in 2012 by two developers passionate about providing solutions through software. To the Byte Shredders team, the job feels more like a hobby than work. We are always eager to learn new methods to keep up with current technologies and standards.
We are not just software developers, we are craftsmen. Well written and designed software is one of the core values that Byte Shredders is founded on, and we use Agile methods to help ensure we can bring your project to market quickly!
Byte Shredders - The Name
Our unique name often causes people to ask, "Why are you called Byte Shredders?" When we chose our name, we drew a bit of inspiration not only from Computer Science, but also from the world of music. A 'byte' is a well known computer related term used to measure data (megabyte, kilobyte, etc.). The second part of our name is borrowed from a style of playing guitar. Steve Vai, master guitarist, defined shredding as "The terminology used for someone who can play an instrument and has such a tremendous amount of technique that what they do just seems completely effortless and absurd." (Source: 'Not Dead Yet' Interview) After we put the two together, we knew we had the perfect name.
Steven Slopek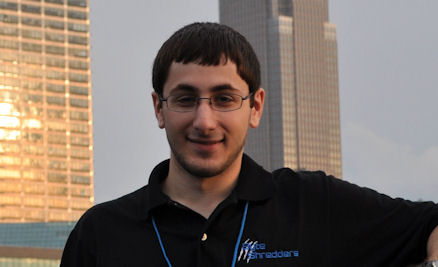 A recent Walsh University graduate, Steven has always been involved with technology. During high school, he began his work in the IT field at a local non-profit. He has made a major impact on local communities, and his applications are still in use by over 5,000 people. In his final year of college, Steven was named Most Distinguished Senior in Computer Science and created the framework for a future course in Android development.
David Welker
Throughout his career at over eight locations, Dave's exposure to a wide array of technologies makes him the perfect fit for our team. His effective communication and planning skills will make sure the task is done right and keep you informed during every step. In his most recent endeavours, he managed the implementation of many software packages, integrations, and the full life-cycle development of applications that were built from the ground up.